Basque creation in Shanghai
Euskara. Kultura. Mundura.
Many works from the Basque artists Jorge Oteiza and Itziar Barrio will take part in the 14th edition of the Shanghai Biennale, which will be celebrated from the 9th of November to the 31st of March 2024, as a result of all the work done in the programme ZABAL.
The main purpose of this 14th edition (entitled 'Cosmos Cinema') is to explore the cosmos in its complexity, presenting artists that research the relation between the microcosm and the macrocosm in different cultures, paying attention to the ecological aspects, through reflection on the role of the human being in the cosmos, presenting artists who reflect on local cosmologies within a decolonial discourse, as well as artists who study the relationship between the cosmos and ideology.
Not only the works from Itziar Barrio, but also the pieces from Jorge Oteiza are situated in the same concept.
"A Demon that Slips into Your Telescopes while You're Dead Tired and Blocks the Light" – Itziar Barrio
This video-essay combines documentary elements with speculative fiction to reveal how humans construct astronomical images and scientific knowledge.
This work addresses the horizontality between human and non-human factors (astronomical phenomena, telescopes, data, scientists). The video explores how those who work in science and technology impact our way of understanding and inhabiting the world, revealing the social constructs and forces of power that shape fields of "objective" knowledge.
Itziar Barrio will be present at the Shangai Biennale and she will present her masterpiece and the Basque creation in the Chinese city.
Five pieces investigating space and metaphysics - Jorge Oteiza
Two of the works, identified as 'Cajas en piedra' (1958), are sculptures carved in white marble inlaid with resin. These pieces are part of a series that reflects Oteiza´s experimental desire to represent the positive and negative parts of the same volume by including black and white elements.
The third sculpture by Oteiza on show in Shanghai is 'Rotación espacial con la unidad Malévich abierta / Homenaje a Malévich' (1957), a steel sculpture with the letters "TZA" inscribed on the back. The sculpture represents Oteiza´s aspiration for spatial fluidity in his sculptural work. The forms are rotated to achieve dynamism, aiming for complete spatial activation. This last sculpture is part of the 28-sculpture series that Jorge Oteiza presented at the 4th São Paulo Biennial in 1957 as part of his experimental approach, which was centred on the idea of spatial disoccupation.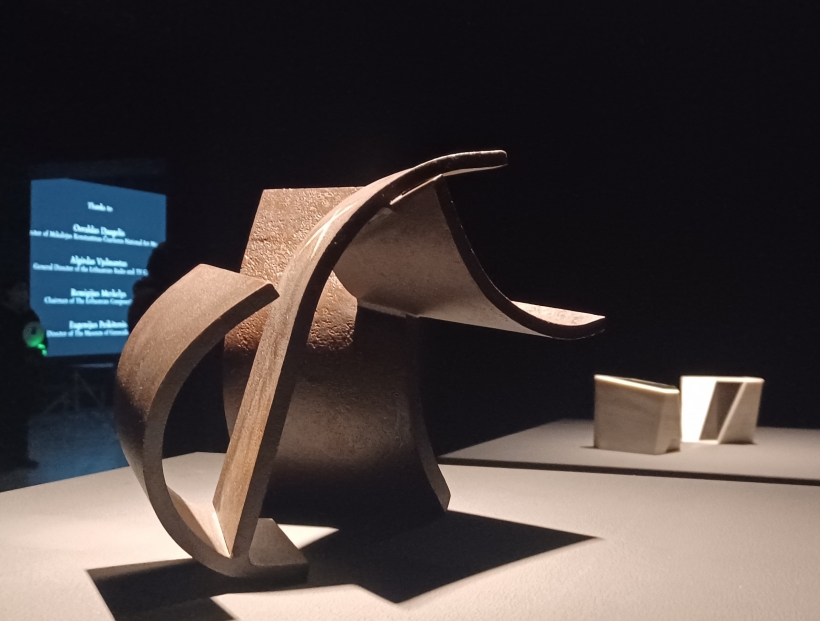 The two collages in charcoal paper on paper, created by the artist from Orio in 1958, will also be on display in Shanghai. These works symbolize Oteiza´s intent to explore how geometric solids function in space by suspending various elements on the plane.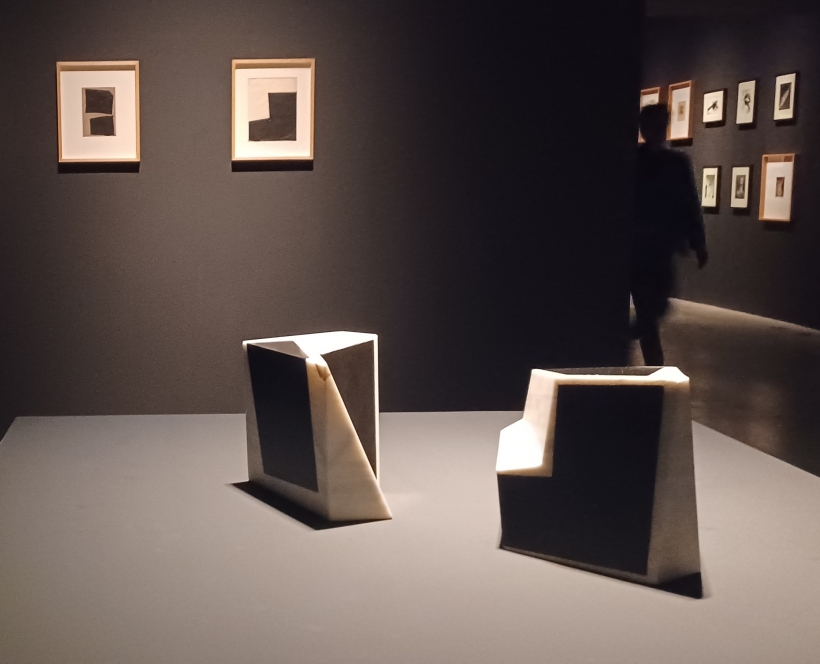 Etxepare Basque Institute and the programme
In 2019, the Etxepare Basque Institute introduced the ZABAL initiative, with the goal of enhancing the global visibility of Basque culture and artists.