Euskara. Kultura. Mundura.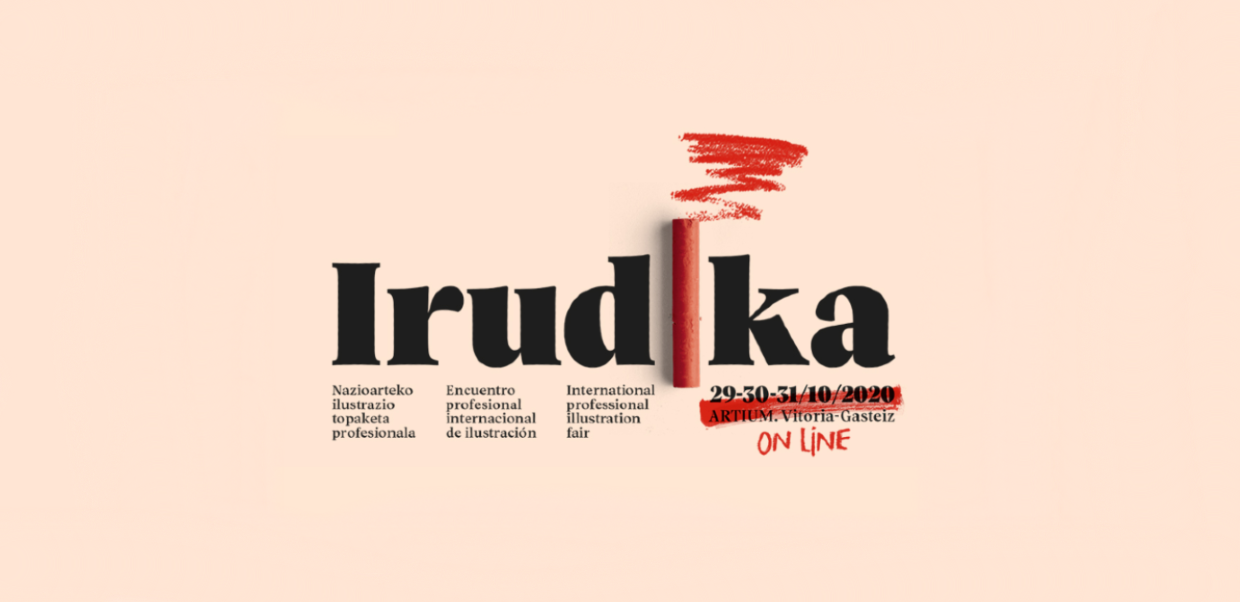 Vitoria - Gasteiz
IRUDIKA, the meeting of professional illustrators organized by Euskal Irudigielak (Professional Association of Basque Illustrators) begins today and will continue until the 31st. In previous years the venue has been the Artium Museum in Vitoria, but this fourth edition will be 100% virtual. The organizers have worked hard this year to offer the best possible experience from a greater distance.
Illustrators, agents, bookstores and publishers will have the opportunity to create a much larger professional network in the 2020 online edition than in previous years. Training sessions, conferences and professional meeting will be the same as in the past three editions, but this year's digital platform will offer the following: an intranet for direct messaging between accredited participants, meeting rooms, as well as a personal gallery to upload information about yourself, your projects, and pictures of your work, catalog or workspace.
Within the platform participants can talk to professionals in different lines of work, such as illustrators, sales agents, companies, publishers, libraries and bookstores. Each participant will be able to build their own community and enjoy the content of the Parallel Sectors, Editorial World and Illustration World sections. Since the training sessions are digital, there will be no limit to the number of spectators.
This year´s theme in the Parallel Sectors section is Mural and Street Art. But instead of traveling to Vitoria, the online platform will allow professionals to take a virtual journey to the streets of the invited artists.
The content created by the guests from Uruguay, Quebec (Canada) and France, together with the work created in the Basque Country, will be available on the platform for one month. IRUDIKA has knocked on the doors of the studios, homes and offices of the guests and has organized very interesting discussions for the world of publishing and illustration. All of the content will be translated into Spanish, English, Basque and French.
Quebec Connection
Participation this year by Quebec artists is noteworthy: illustrator and muralist Marc-Olivier Lamothe, director of the Quebec BD comic festival Thomas-Louis Côté, founder La Pastèque publishing house Frederic Gauthier, and the illustrators Anne-Julie Dudemaine, Mathieu Potvin and Genevieve Bigué from Ilustration Quebec will all join this year's program.
As part of the Basque Government's Euskadi-Basque Country strategy, Quebec is among the territories identified as strategic for Basque foreign relations and internationalization. In the context of the Québec-Pays Basque 2020-2021 initiative launched this year, Euskal Irudigileak has promoted the presence of illustration professionals from Quebec in IRUDIKA.